Bathroom Accessories can be a real highlight in the hotel bathroom. Interior designers like to use bathroom accessories to create an accent with the hotel colours or just give the bathroom a certain design touch. There are big brands for hotel amenities and accessories out there, which offer great modern designs of bath accessory collections, that give every bathroom a special touch. But such a bathroom accessory set often comes at high price and the choice – even though there is a large selection – is limited.
We source bathroom amenities and accessories, such as soap dispensers, soap dishes, rubbish bins, trays, toothbrush holder and much more in China with the manufacturer directly. This gives us the chance to implement your individual design wishes, custom colours and even custom sizes. Luxury bath accessories don't need to come with an expensive price tag. Typical bathroom accessory sets include:
Soap dispenser, or soap dish
Tray
Toothbrush holder
Tissue box covers
Garbage bin/ vanity waste bin/ Rubbish bin
What is the advanatge of resin bathroom accessories?
Resin bath accessories are made of synthetic resin, also called Polyresin. It is a material that is washable and has low-maintenance requirements. Further, it is resistant to water and variety of chemicals, and doesn't show ageing or weathering effects. Additionally, it can be manufactured in a bulk moulding compound for relatively low cost, which makes it perfect to customize. While glass moulds for glass bath accessory sets can come quite pricy, resin moulds can be cost-efficient for much lower quantities. In addition, resin does not corrode as some metals and is cheaper than stainless steel.
Your Hotel, your unique décor accent
Bathroom accessory sets can match your existing hardware in a metallic finish like chrome or gold, or you can adopt one of your decorative finishes, like your hotel colours or stone to provide a unique décor accent. You can match your guest room flooring or aim for a pearl imitate. Resin can even look like coloured glass. Your design has no limits.
Our Catalogue
In our catalogue we listed some bath accessory collections we have done in the past. But we are happy to match the complete details of your design ideas and manufacture custom-made bathroom accessory sets. Also, please consider that resin bathroom amenities in our catalogue are just style references. The different styles and colours can be applied to all existing moulds. This means you can order every tray, every toothbrush holder or every soap dispenser in any colour or style.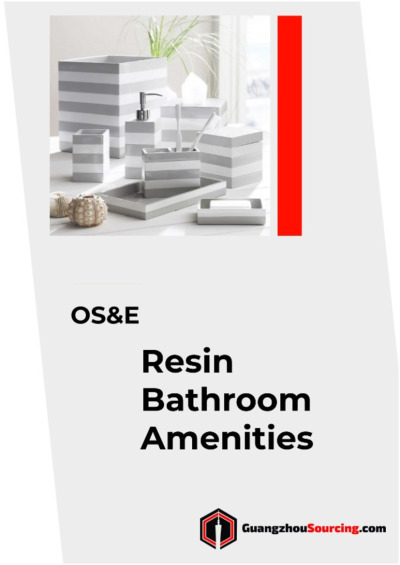 Interested in working with us? Then simply write us an email or fill in the Request For Quotation form.